The 2021 CAWP / H2AP Virtual Membership Event & Prize Bash was held on Friday, February 5, 2021. The event showcased pertinent industry updates, easy to implement ways to improve your messaging online, and a thought-provoking look at fundamental leadership changes necessary in a post-COVID world. The morning culminated in a raffle with several lucky winners! Thank you to all who participated live.
If you were unable to participate in the 2021 CAWP /H2AP Virtual Membership Event & Prize bash, or would like to review the information presented, you are invited to view the session replays!
Log into the CAWP Member Portal at cawp.org and click on Workspaces. Select 2021 CAWP / H2AP Virtual Membership Event & Prize Bash to access all of the session replays.
If you need login credentials, simply click SIGN UP. To reset your password, simply enter your username, which is your email, and follow the prompts to easily reset your login credentials.
Please note:  Google Chrome or Firefox are the preferred web browsers to access the Member Portal. Internet Explorer is incompatible with the system.
THANK YOU TO OUR SPONSORS!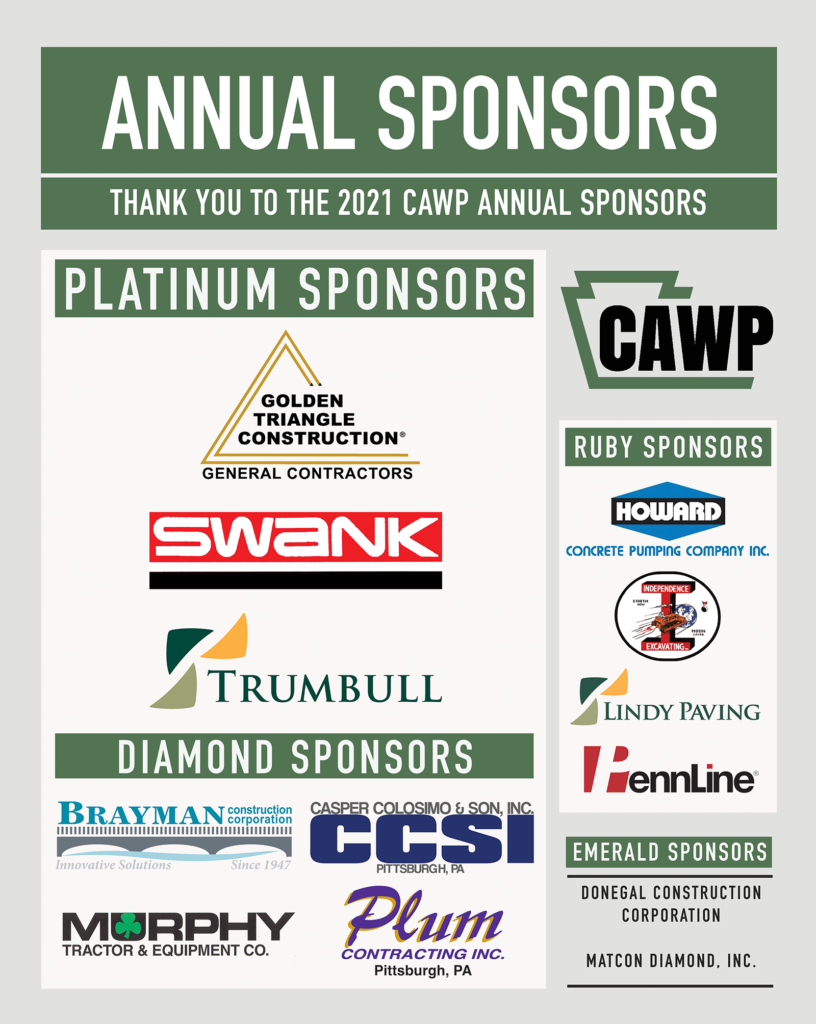 THANK YOU PRIZE SPONSORS
EMERALD Sponsor
Laborers District Council of Western Pennsylvania
GOLD Sponsors
Cleveland Brothers Equipment Co., Inc.
Donegal Construction Corporation
Fay, an i+iconUSA Company
Matcon Diamond, Inc.
Mekis Construction Corporation
Plum Contracting, Inc.
Trumbull Corporation
SILVER Sponsor
Seubert & Associates, Inc.
BRONZE Sponsor
Modified Concrete Suppliers, LLC