CAWP and the AGC of America offers online training courses which allow access to courses 24 hours a day, seven days a week.
Online training gives contractors the benefit of being able to train workers around work-site activities and for when a project requires a specific course or training credential and there are no scheduled classroom courses.
Two portals and tons of options!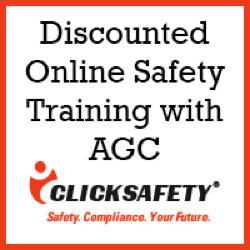 Distant Learning through AGC
Online Training with ClickSafety.com
ClickSafety's online training includes a comprehensive library of over 300 construction safety and environmental courses.
CAWP Members save 10% on ClickSafety courses.  When registering, indicate that your company is a member of CAWP.
Benefits of Online Training
Reduced costs – No travel time or other related expenses.
Convenient – Train on laptops/tablets
Flexibility – Content is available 24/7; train at own pace.
Reports and documentation – Track progress and obtain instant training documents.