Toolbox Talks & Hazard Alerts
As part of CAWP/H2AP's safety education program, the following toolbox talks and hazard alerts are provided to increase safety awareness in western Pennsylvania's construction industry.  These educational resources were provided through a partnership with the Center for Construction Research and Training (CPWR) and our long-standing Alliance with the Pittsburgh area office of OSHA.  Most are in English and Spanish.
CPWR Toolbox Talks and Hazard Alerts
TOOLBOX TALKS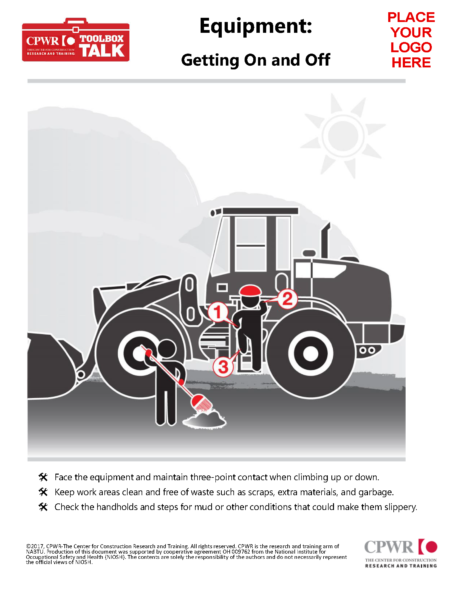 – CPWR maintains a collection of over 70 Toolbox Talks. Many heavy/highway and general construction topics are available. To suggest new topics, please contact cpwr-r2p@cpwr.com.
HAZARD ALERTS – CPWR maintains a collection of over 35 Hazard Alerts. These are short, image-driven materials that deliver simple, direct messages for protection against safety and health hazards faced by construction workers. They are available in two formats: one-page PDFs and printed laminated pocket-size cards.  Cards can be ordered here.
Add your Company Logo to these resources – CPWR has provided CAWP with links (see below) to customize these resources.  To add logo, must use Adobe Acrobat Pro (not Acrobat Reader) – in edit mode, right-click image that reads 'Place Logo Here', select 'replace image', then select the image file to be placed.
TOOLBOX TALKS - add your logo
HAZARD ALERTS - add your logo
OSHA Alliance Toolbox Talks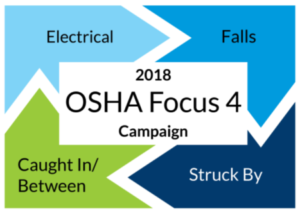 Toolbox Talks – OSHA provided these 'Focus Four Hazard' toolbox talks to raise awareness on the hazards that account for a majority of injuries and fatalities in the construction industry.  The leading causes of worker deaths on construction sites were falls, followed by struck-by, electrocution, and caught-in/between.  
These 'Fatal Four' hazards were responsible for well over half (64%) of the total (991) construction worker deaths in 2016, according to BLS reports.
Falls — 384 (39%)
Struck by Object – 93 (9%)
Electrocutions – 82 (8%)
Caught-in/between* – 72 (7%) *Workers killed when caught-in or compressed by equipment or objects, and struck, caught, or crushed in collapsing structure, equipment, or material
We encourage you to provide feedback which will assist us in promoting future safety efforts and evaluating our impact in the construction industry.  All voluntary feedback may be sent to OSHA's Pittsburgh Area Office, in care of Bob Carroll, Compliance Assistance Specialist at carroll.bob@dol.gov.