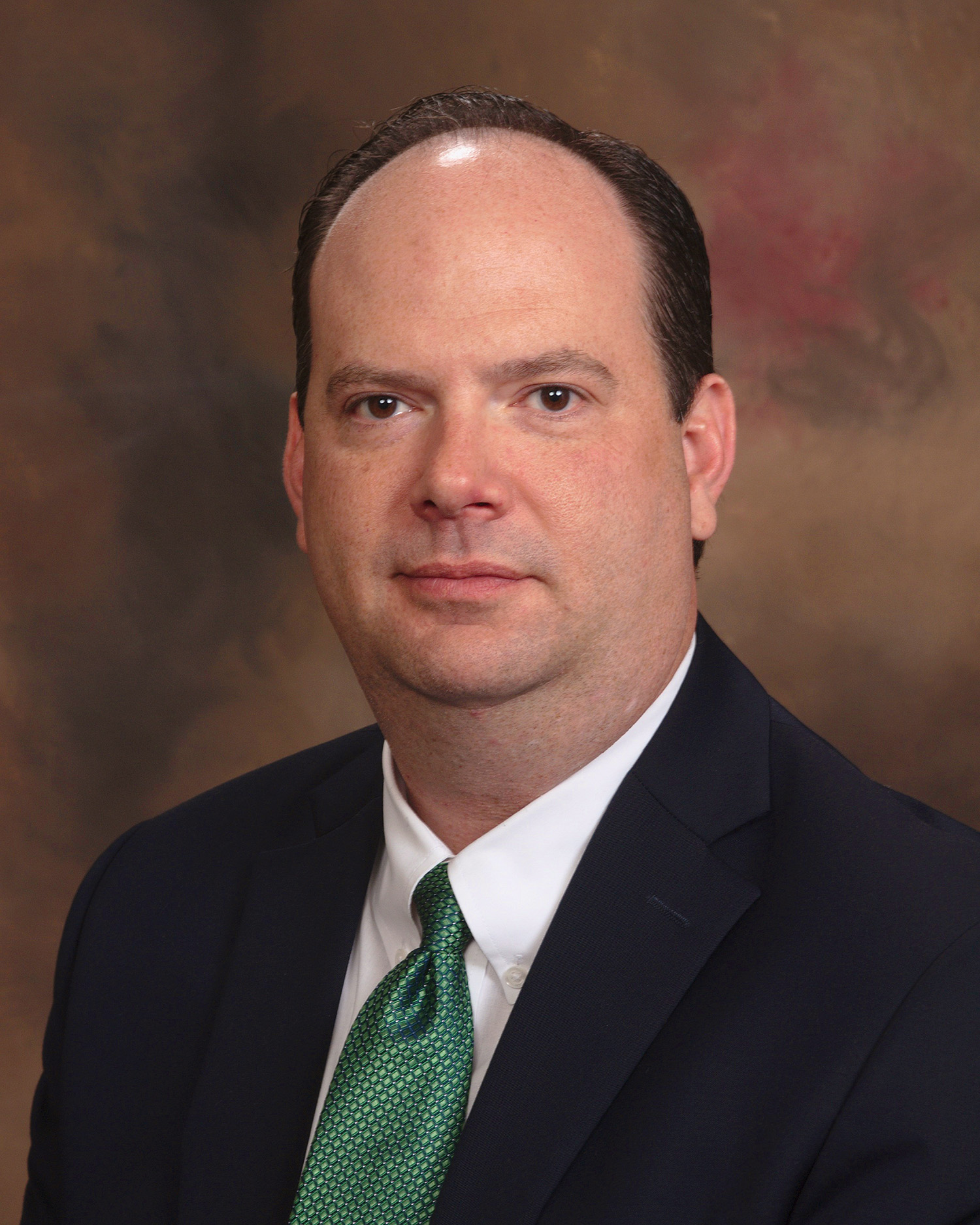 Richard J. Barcaskey
CAWP Executive Director
A Message from the Executive Director
As we welcome in a new year, we are pleased to present to you our 2018 Annual Report. In the report, you will be able to view the Association's efforts on behalf of our members in the year just ended. These accomplishments are made possible by the commitment our members make to serve and promote the union heavy and highway construction industry in western Pennsylvania. We could not accomplish all that we have without the volunteers who assist us each year by serving on the Board and on various committees, taking time to advocate on behalf of the industry and attending our training and other events.
We hope you enjoy our Annual Report. As always, we thank you for your support of the Association in 2018 and beyond.
2018-2019 CAWP EXECUTIVE COMMITTEE
| | | |
| --- | --- | --- |
| President | Joseph F. Casilli | Casper Colosimo & Son, Inc. |
| Vice President | Andrew R. Swank | Swank Construction Co., LLC |
| Secretary/Treasurer | Frank Piedimonte | Brayman Construction Corporation |
| Immediate Past President | George E. Mezey | Trumbull Corporation |
| Committee Chair | Ali Mills | Plum Contracting, Inc. |
THANK YOU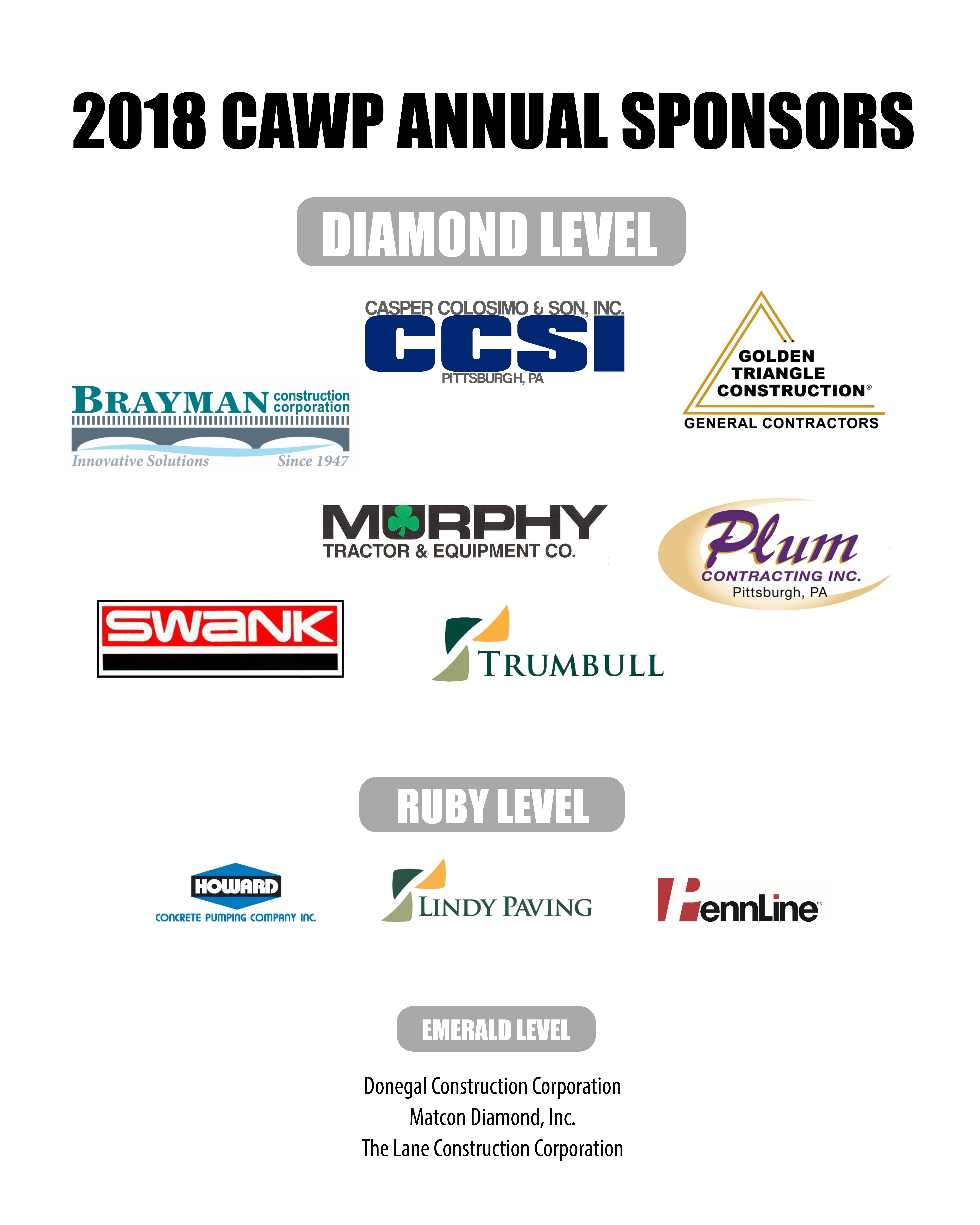 2018 BOARD OF GOVERNORS
Anthony Bertolino
Mekis Construction Corp.
Erik Bertrand
Mosites Construction Co.
Robert Breisinger
Mascaro Contracting, LP
Peter J. Caruso IV
Peter J. Caruso & Sons, Inc.
Joseph F. Casilli
Casper Colosimo & Son, Inc.
Michael A. Facchiano, Jr.
Michael Facchiano Contracting, Inc.
Justin Fox
Independence Excavating, Inc.
Joseph E. Kissane
M. O'Herron Company
John H. Laver IV
Mayer Brothers Construction Co.
David Matesic
Matcon Diamond
Brian Miller
Plum Contracting, Inc.
Ali Mills
Plum Contracting, Inc.
Frank Piedimonte
Brayman Construction Corp.
David Sciullo
Golden Triangle Construction Co., Inc.
Lance Shreffler
McKinney Drilling Company
Ryan Surrena
Joseph B. Fay Company
Andrew R. Swank
Swank Construction Co., LLC
Vince Tutino
Lindy Paving
Sean Donoghue
Cleveland Brothers Equipment Co.
– Associate Member Representative
PRESIDENTS COUNCIL
| | |
| --- | --- |
| Shawn M. Fay, Sr. | |
| George E. Mezey | Trumbull Corporation |
| John M. Mills | Plum Contracting, Inc. |
| Robert G. Miner, Jr. | Donegal Construction Corp. |
| Stephen M. Muck | Brayman Construction Corp. |
| Charles J. Niederriter | Golden Triangle Construction Co. |
| Michael A. Palo | Francis J. Palo, Inc. |
| Kenneth L. Wolf | Mekis Construction Corp. |
2018 CAWP LABOR COMMITTEE
The Labor Committee aims to negotiate competitive labor agreement for all CAWP Contractor members; and review critical issues affecting heavy and highway union contractors such as apprenticeship and training programs and multi-employer pension funds.
| | |
| --- | --- |
| Charles J. Niederriter- Chair | Golden Triangle Constr. |
| Chad Basinger | Swank Constr. Co., LLC |
| Bob Cane | Trumbull Corp. |
| Shawn M. Fay, Sr. | |
| Dan Ganoe | Lindy Paving |
| Thomas P. Kissane | M. O'Herron Company |
| Eric Klimas | Golden Triangle Constr. |
| John Maffeo | Trumbull Corporation |
| John M. Mills | Plum Contracting, Inc. |
| Michael A. Palo | Francis J. Palo, Inc. |
| Frank Piedimonte | Brayman Construction |
| Steve Reed | Mekis Construction |
| Clayton Stahl | Gulisek Construction LLC |
| Andrew Swank | Swank Const. Co., LLC |
| Kenneth L. Wolf | Mekis Construction |
| | |
CAWP Continues to Work to Make Contractors Competitive
The Association continued to play an active role in assuring that our contractor members remain competitive.
In 2018, CAWP was successful in working with the unions to process 56 Competitive Adjustments for PennDOT, Turnpike and other owner projects in western Pennsylvania.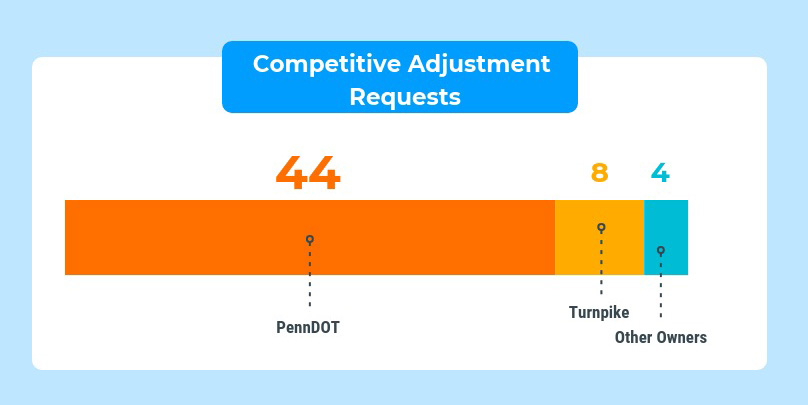 Automated Speed Enforcement in Work Zones Legislation Passed
On Friday, October 19, 2018, Governor Tom Wolf signed Senate Bill 172, the Automated Speed Enforcement in Work Zones legislation, which aims to deter speeding in work zones and ultimately improve motorist and roadway worker safety.
"Crashes, injuries, and deaths that occur because of speeding are completely preventable, and this law is a major step in enhancing safety in Pennsylvania's work zones," Governor Wolf said. "We always urge people to drive safely, and this is especially critical for those working within and driving through work zones."
It was a long road to the passage of this legislation. The tide turned on September 25 when, by a vote of 173 to 22, the Pennsylvania House passed Senate Bill 172. The camera bill's approval in the House represented a significant milestone since passage in that chamber had been a difficult obstacle to overcome.  While House members were generally supportive of the legislation, getting them to make cameras in work zones a priority proved to be a challenge.  In the spring of 2018, the Association was successful in convincing the Speaker of the House, Mike Turzai, to publicize his support for this legislation.
The legislation authorizes a five-year Automated Speed Enforcement Pilot Program in highway construction work zones on interstates and the Pennsylvania Turnpike.  Before passage, the House made some minor changes to the legislation, which included requiring additional signage to inform motorists that a work zone is being monitoring by speed cameras and making the first offense a written warning rather than a fine.
After the House passed the legislation, it returned to the Pennsylvania Senate where it was easily passed by a vote of 47 to 1 on October 2.
This legislation has been one of CAWP's legislative priorities for the past several years, and throughout this time, we have worked closely with APC, the unions and other stakeholders to gain final passage.
Thank you to everyone who made calls and sent emails in support of this legislation.
Future Road Builders Recognized with Diversity Excellence Award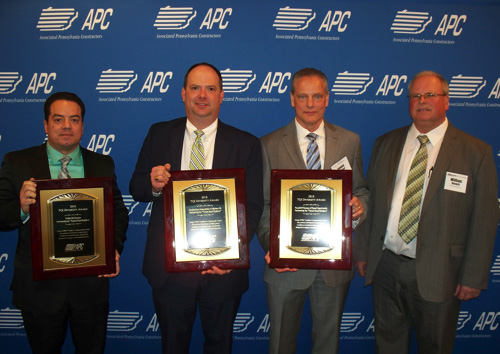 CAWP Student Estimating Competition
CAWP hosted the 2nd Annual CAWP Student Estimating Competition at the Regional Learning Alliance in February of 2018. Nine teams from five universities participated in this competition, which was developed to showcase the benefits and opportunities the heavy-highway construction industry has to offer. It was an exciting two days with teams from Carnegie Mellon University, Penn State University – University Park, Penn State University – Harrisburg, University of Pittsburgh, and University of Pittsburgh at Johnstown once again participating in the competition.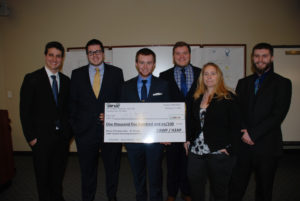 The competition began with the student teams receiving pre-job documents and attending a pre-bid meeting. The teams then spent the day preparing their bids and schedule. There was a race to the finish at the bid box as the teams arrived to turn in their bid packages before the 6:00 p.m. deadline. On day two, the teams were allotted 30 minutes to present their process and an explanation of how they arrived at their final bid to a panel of judges. Scores from both the actual bid and the presentation were combined to determine the winning teams of the competition.
NEW GAMING APPS IN THE CAWP SKILL ARCADE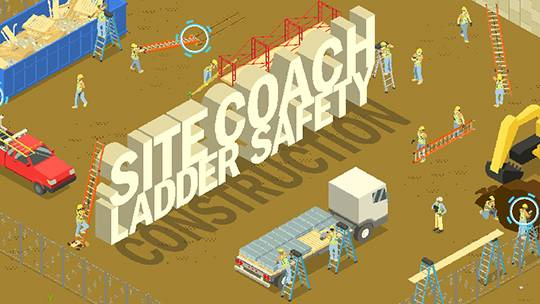 LADDER SAFETY CONSTRUCTION
Safety risks come in various forms on a construction site. Get oriented and show that you can identify ladder safety issues.
LADDER SAFETY CONSTRUCTION
Developed in partnership with MBA, CAWP, Mosites Construction, Zurich Insurance Group and Simcoach.
Download Game Now!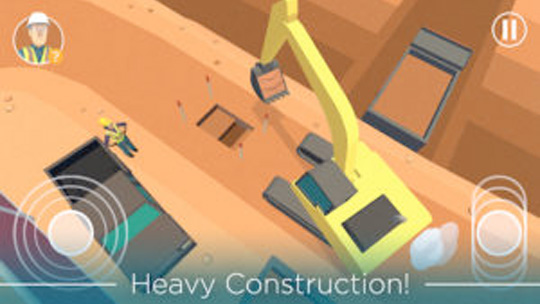 DIG IN: AN EXCAVATOR GAME
The gamer is responsible for digging trenches, moving earth, busting up concrete, filling holes, and so much more.
DIG IN: AN EXCAVATOR GAME
Developed in partnership the International Union of Operating Engineers Local 66 and Simcoach Games.
Download Game Now!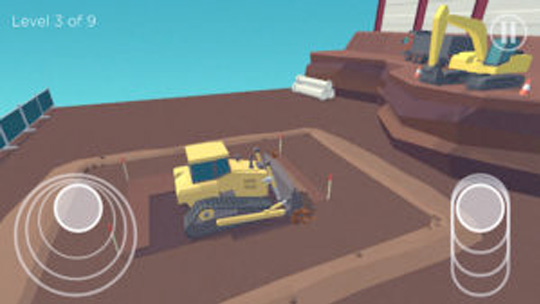 DIG IN: A DOZER GAME
Experience the earth-shaking power of dozer operation once you drop your blade and push mountains of dirt.
DIG IN: A DOZER GAME
Developed in partnership the Operating Engineers Local 66 and Simcoach Games.  Explore careers, practice basic job skills and earn badges.
Download Game Now!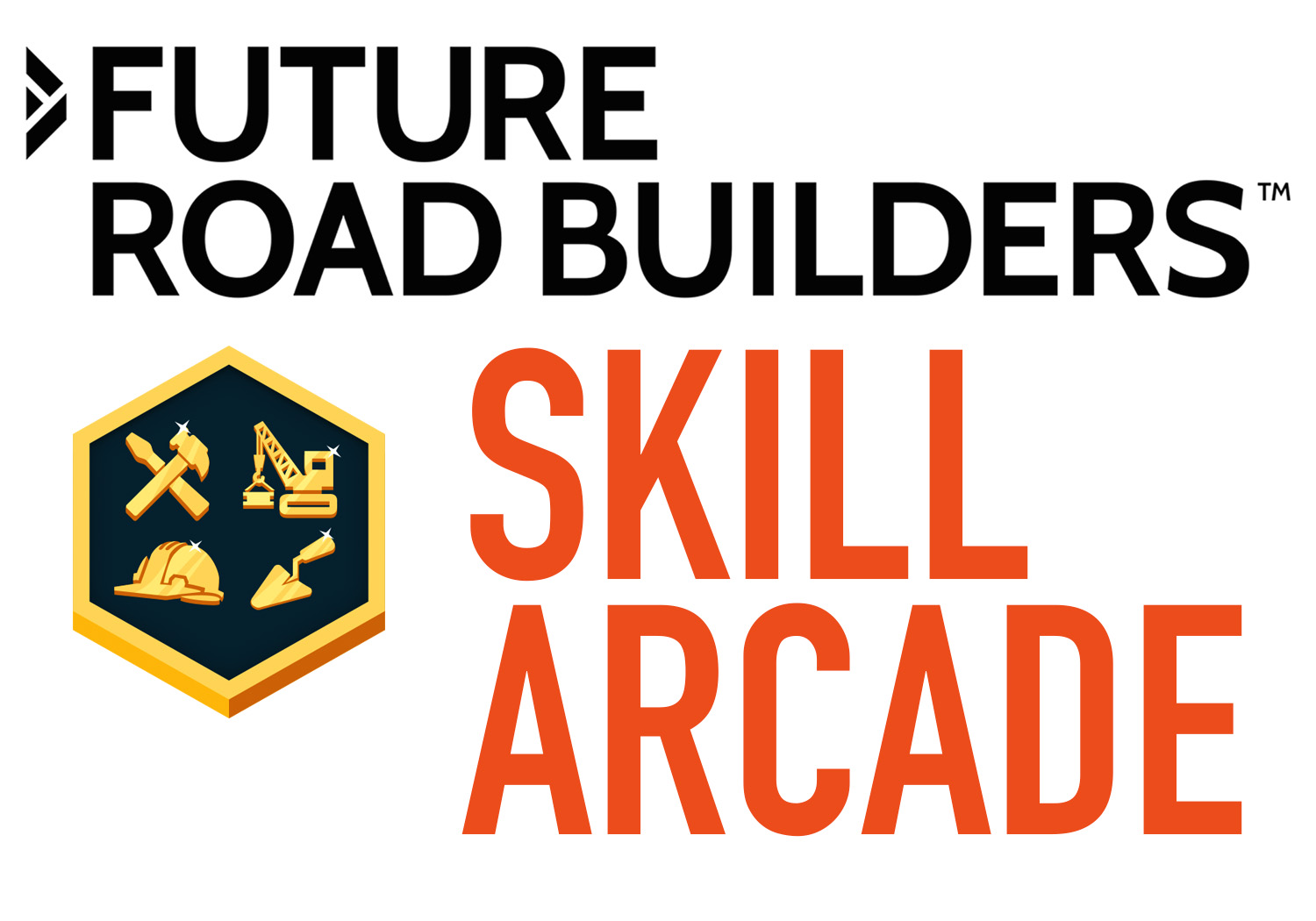 SKILL ARCADE
Visit the Skill Arcade for More Games!
Step into the action – virtually!
With numerous games to introduce you to the construction industry, the Skill Arcade enables players to create a full profile of accomplishments. Earn badges, proving you have the skills and perseverance it takes to get the job done.
Each game is free and can be downloaded on your mobile device to play at home or on the go!
SKILL ARCADE
CAWP Co-Hosts Popular Cranberry Township Touch-A-Truck Event
Partnering with Cranberry Township Parks & Recreation, Cranberry Township and the Cranberry Library, CAWP co-hosted the Touch-A-Truck event Wednesday, August 15, 2018.
Approximately 300 people attended this family-friendly, free event. Children had the chance to get up close and personal with construction vehicles, fire trucks, EMS vehicles and more!
Thank you to Cleveland Brothers Equipment Co., Inc., Highway Equipment Company, Inc., McClymonds Supply & Transit Co., Inc., Murphy Tractor and Equipment Company and Operating Engineers for participating by supplying equipment for the event.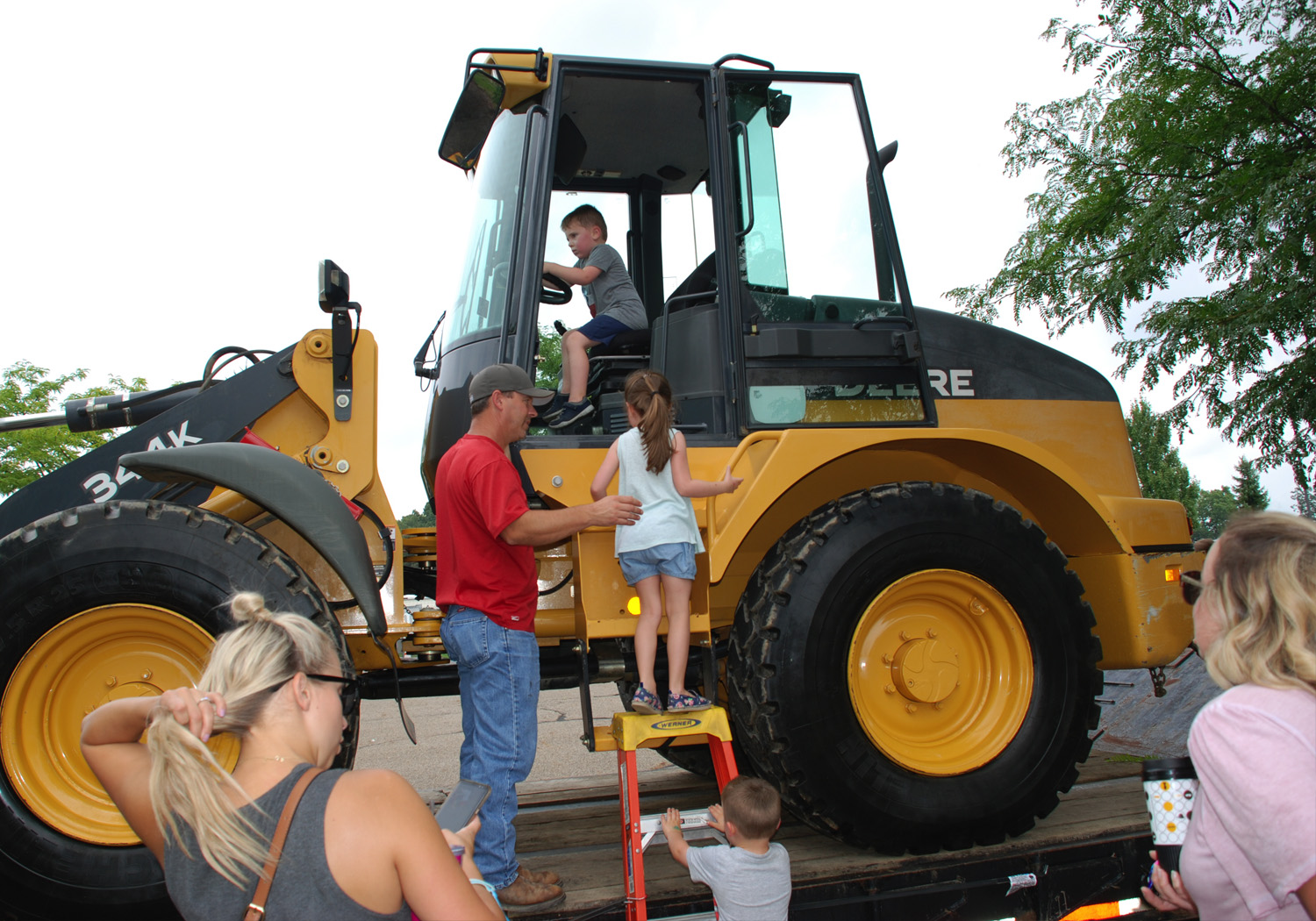 CAWP Promotes Industry Jobs at Area Career Fair
CAWP participated in the 5th Annual Mercer County Business and Industry Career Fair on April 4, 2018 in West Middlesex, PA.
Nearly 1,200 tenth grade students from all 14 Mercer County schools were in attendance at the event throughout the day.
This annual event was organized by the West Central Job Partnership and their partners at the Mercer County Career Center, Penn Northwest Development Corporation, and Shenango Valley Chamber of Commerce.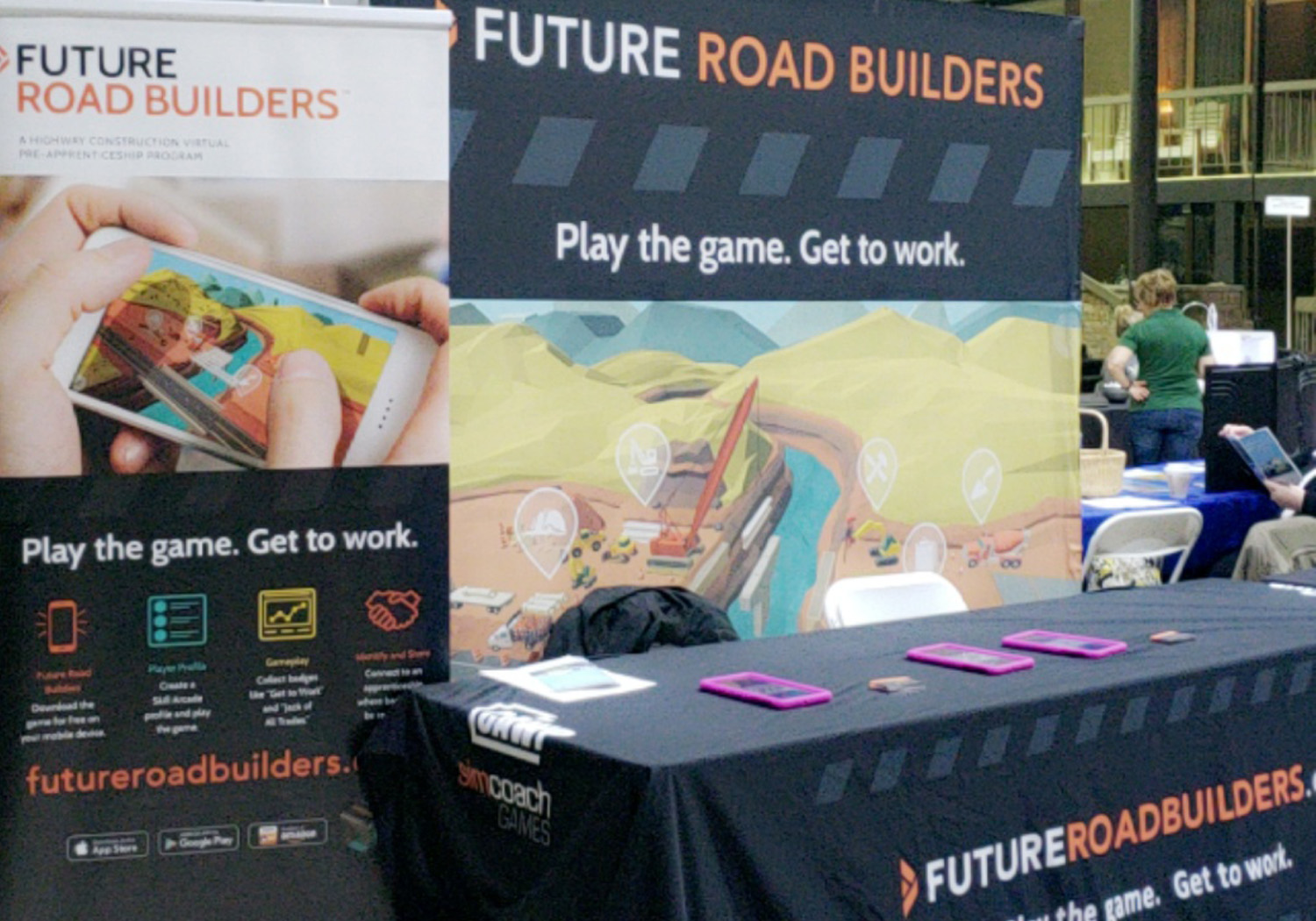 Educator in the Workforce Program Highlights Industry Careers
On Monday, October 8, more than 100 area educators attended the Educator in the Workforce program, hosted by Mascaro Construction at the Carpenters Training Center.  Developed and presented by the Consortium for Public Education, this program offers educators daylong immersion opportunities to learn about the region's key industries and employers.
In addition to a tour and breakout sessions for the educators, CAWP was on hand throughout the day to share information about Future Road Builders. Educators were given the opportunity to view and play the program, giving them an inside look at career opportunities within the industry.
At the end of the program, the educators were left with a better understanding of workplace and post-secondary expectations and the tools to help their students understand how classroom learning is relevant to real-world opportunities.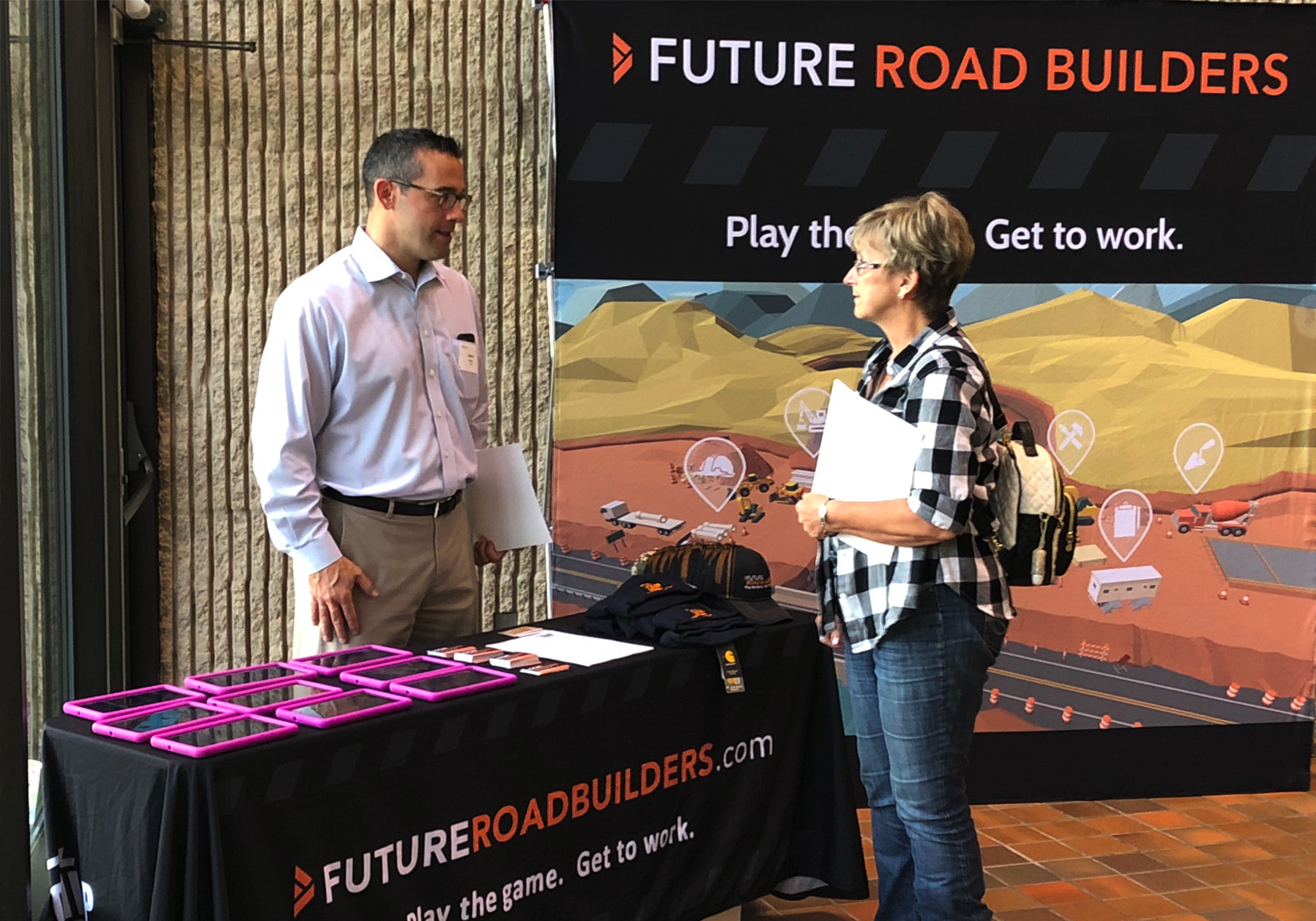 Industry Supports AGC Pitt Student Chapter with Jobsite Field Trip
Five students from the AGC Student Chapter at Pitt participated in a field trip to the I-70 PennDOT project in Eighty Four, PA on Friday, March 12.  The students toured the 6-mile project, concrete batch plant, and a stream relocation.  The project tour was provided by Bryce Locke, Field Supervisor, Steve Durbin, Safety Director, and Harry Jack, Project Manager, from Lane Construction Corporation.  Based on a recent survey at the CAWP estimating competition, 77% of students stated they were interested in attending field trips and visits to contractors' offices.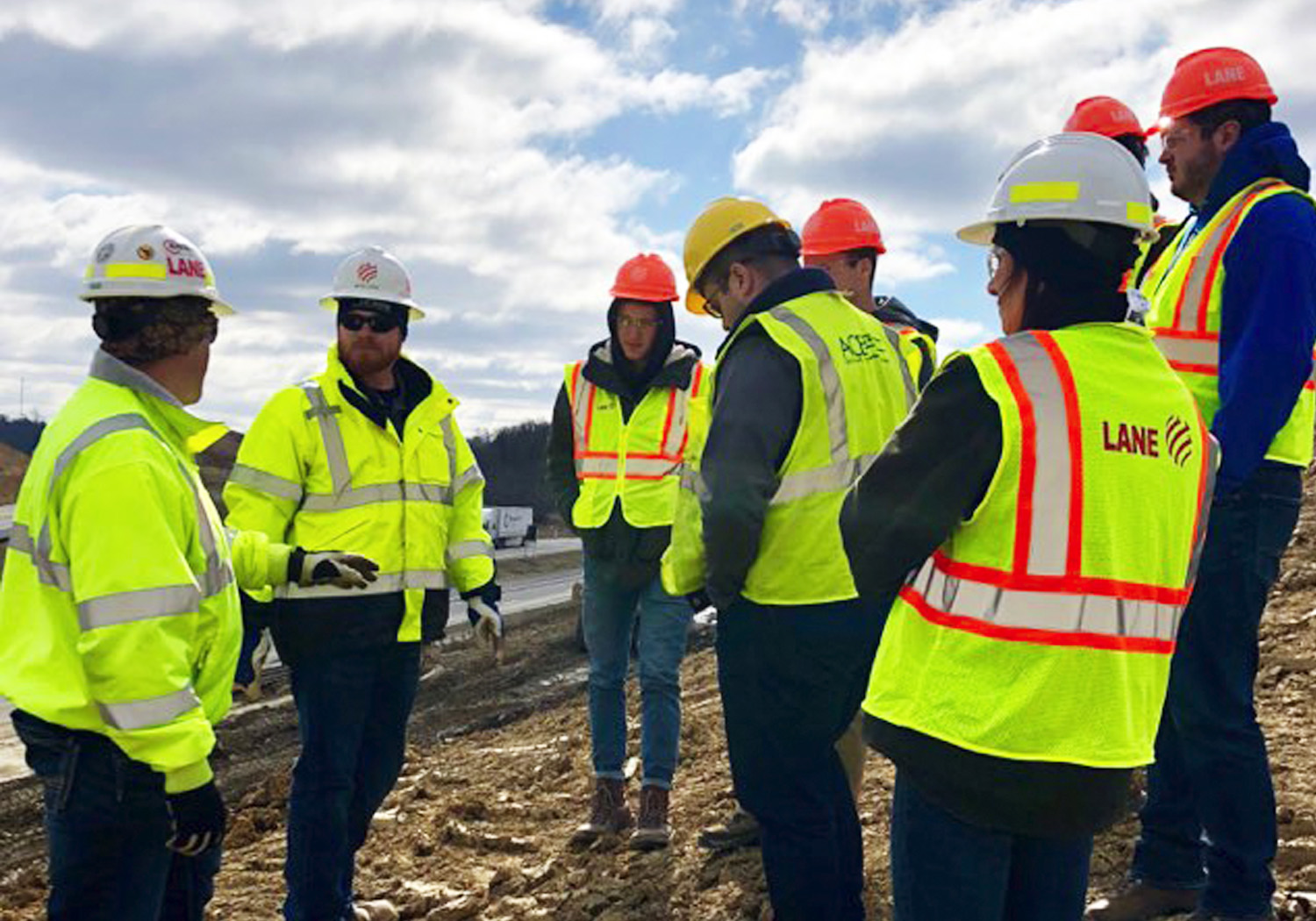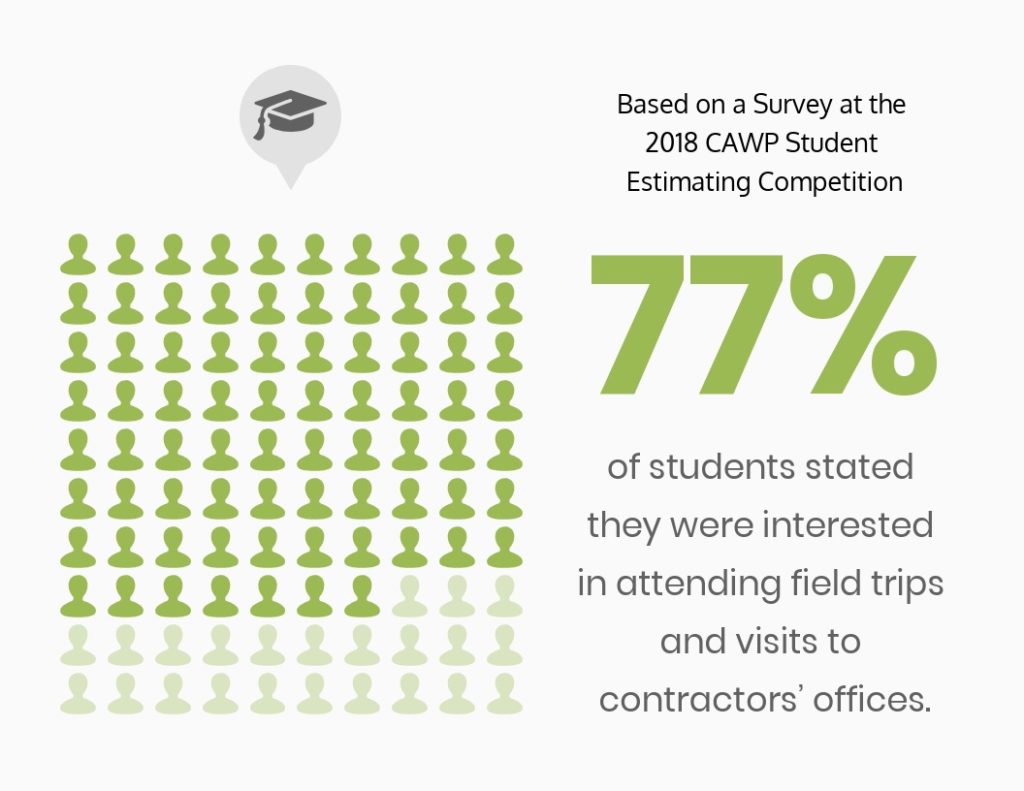 2018 CAWP CLC STEERING COMMITTEE
The Constructors Leadership Council (CLC) aims to foster the personal and professional growth of its members by sponsoring social gatherings for networking opportunities as well as organizing continuing education. The CLC ensures the continued growth of the Association by providing the perspectives of CLC members on current issues to the Board of Directors. They also work to improve the public perception of the industry by organizing charitable events in the community.
| | |
| --- | --- |
| Mark Mills – Chair | Plum Contracting, Inc. |
| Dave Sciullo – Vice Chair | Golden Triangle |
| Jason Sinay – Past Chair | C. H. & D. Enterprises, Inc. |
| Bryon Breese | Trumbull Corp. |
| Heath Butler | Trumbull Corporation |
| Josh Fetcko | Plum Contracting |
| Felicia Gaudelli Woessner | Parking Lot Painting |
| Frank Howard | Howard Concrete Pumping |
| Nathan Miller | Lane Construction Corp. |
| Steve Mosites III | Mosites Construction |
| Lyndsay Olson | Rae-Lyn Enterprises, Inc. |
| Mark Ondecko | Gulisek Construction |
| Mike Trettel | Joseph B. Fay Co. |
CLC Sporting Clays
Nearly 140 shooters participated in the 2018 CAWP CLC Sporting Clays event on Friday, May 25 at Seven Springs Mountain Resort. Following breakfast, attendees enjoyed perfect weather during an exciting and challenging round of shooting. The attendees then gathered in the Grille for a buffet lunch and the announcement of prize winners and the top shooters.
Top shooters for the day were:
Brian Mozena, The Hartford
Jim Pratt, Penn Line Service, Inc.
James Ramp, DGI-Menard, Inc.
Eric Gotwald, Penn Line Service, Inc.
The highlight of the day, however, was the announcement of the top scoring team from the shooting round. For the second year in a row, Penn Line Service, Inc. took home the win and the coveted CAWP CLC Sporting Clays Event Top Scoring Team Trophy.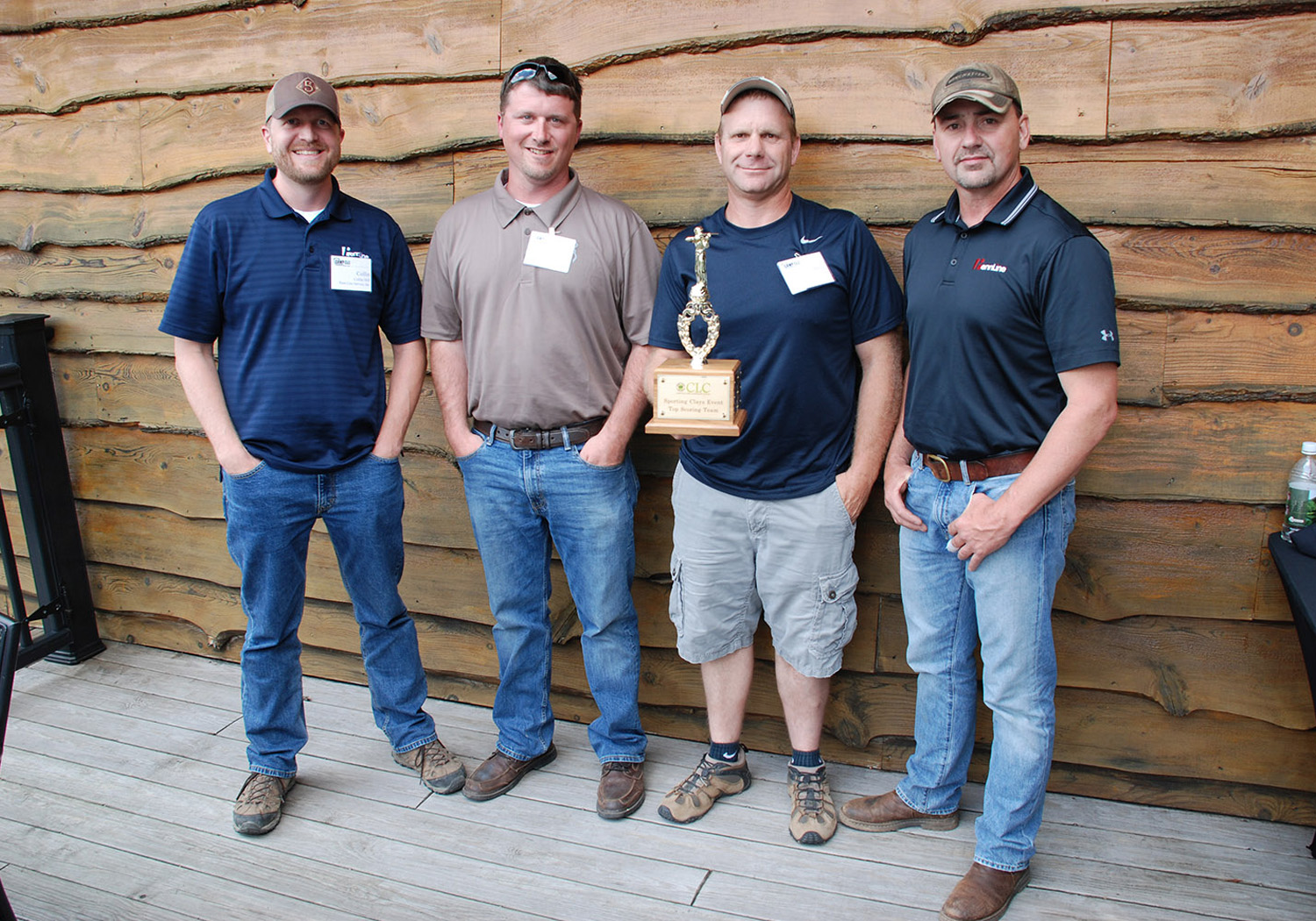 CAWP CLC Sporting Clays Top Scoring Team – Penn Line Services, Inc. 
 CLC Awards Brandon Chaney CLC Scholarship at Annual Ceremony
In January 2018, the CLC Scholarship Program awarded four $1,000 Scholarships to first-year apprentices.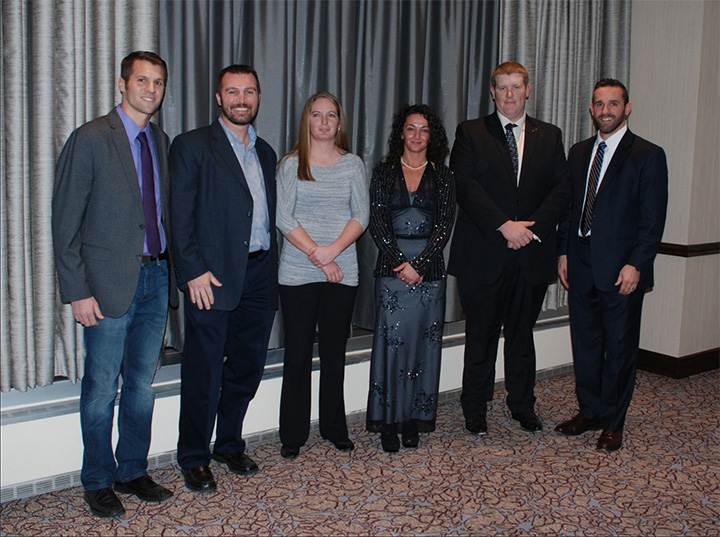 Over 500 Christmas Toys Donated to Local Children
The CAWP Constructors Leadership Council (CLC) Toy Drive was once again a huge success. Well over 500 toys were donated by CAWP members.
The toys were distributed by the Salvation Army to area children in need, primarily in the Mount Pleasant and New Stanton areas.
Thank you to everyone who donated toys or made financial contributions to the Toy Drive!
All Crane Rental of PA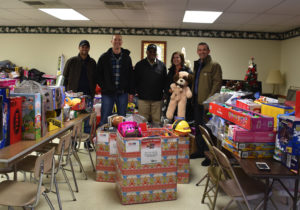 C. H. & D. Enterprises, Inc.
Cleveland Brothers Equipment Co., Inc.
Donegal Construction Corporation
Michael Facchiano Contracting, Inc.
Joseph B. Fay Co.
Golden Triangle Construction Corporation
Green Acres Contracting Co., Inc.
Gulisek Construction LLC
Howard Concrete Pumping Co., Inc.
HUB International Limited
Independence Excavating, Inc.
Matcon Diamond, Inc.
McElroy Lawry CPAs
Mekis Construction Corporation
Plum Contracting, Inc.
Pro-Am Safety, Inc.
Quality Bridge & Fab
Thanks to CLC Chair Mark Mills of Plum Contracting and CLC Committee Member Mark Ondecko of Gulisek Construction LLC for assisting in the delivery of the donations. And a special thank you to All-State Career for providing the bus to transport all the donations to the Salvation Army.
2018 CAWP SAFETY COMMITTEE
The Safety and Risk Committee annually reviews and selects safety training programs for members; and identifies existing or potential environmental standards and provides members with training and strategies for compliance.
| | |
| --- | --- |
| Chad Lincoln – Chairman | Trumbull Corporation |
| Chris Abbs | Strongstown's B&K |
| Celeste Andreassi-Hutchens | A.C. Miller Concrete Products, Inc. |
| Matthew B. Aubele | Travelers |
| Richard L. Bair | Francis J. Palo, Inc. |
| Rick Bowers | Mascaro Contracting |
| Dave Bucy | Zurich Insurance Group |
| Chase Campbell | Michael Facchiano Contracting, Inc. |
| Larry Chilenski | Swank Const. Co., LLC |
| Steve Durbin | The Lane Construction Corporation |
| Joe Franceschini | Trumbull Corporation |
| Joshua Hatcher | Donegal Construction Corporation |
| Carl Heinlein | American Contractors Insurance Group |
| Morgan Koprivnak | Lindy Paving, Inc. |
| Del Kubeldis | Amerisafe Consulting & Safety |
| Nick Kuntz | Alliant Insurance Services, Inc. |
| Fritz Leitenberger | Willis of Pennsylvania |
| Jason Malatak | Mosites Construction |
| Dave Maloney | Joseph B. Fay Co. |
| Michael Nicholas | Plum Contracting, Inc. |
| Angela Ravenscroft | Brayman Construction Corp. |
| Chris Reefer | Joseph B. Fay Co. |
| Chris Sckena | Golden Triangle Construction Co., Inc. |
| Ryan Shumaker | Independence Excavating |
| Rhonda J. Snyder | Mekis Construction |
| Victor Vendetti | MSA |
| Gary Wobb | Liberty Insurance Agency |
CAWP Launches New Safety Video Training Series
Get your existing crews and new hires up to speed quickly with CAWP's new video training series. With an influx of new hires who have minimal experience working in the industry, it is important for your crews to be able to hit the ground running. This video series, coupled with your current training efforts, will help make that a reality.
Two new videos are available now!
Pipeline Installation Video

The Pipeline Installation Safety video highlights the key areas of employee training, tools & equipment, and job site layout.
Slipform Paving

The Slipform Paving video highlights the key areas of slipform paving equipment, safety precautions and control measures, and crew responsibilities.
Thank you to the CAWP Safety & Risk Committee for their assistance in the creation of this video series.
Special thanks to CAWP President Joe Casilli of Casper Colosimo and Son, Inc. for his contribution to the pipeline video.
Special thanks to Chris Sckena of Golden Triangle Construction Co., Inc. for his contribution to the slipform paving video.
Record Number of Safe Supervisors Recognized at the 2018 Safety Banquet
Nearly 550 safe supervisors were honored at the CAWP / H2AP Safety Banquet on Friday, March 23, 2018. The annual event once again honored accident free supervisors and companies with outstanding safety records in the prior construction season.
Twenty-two CAWP and H2AP contractor members received the 2017 Safety Award for having no lost time accidents and thirteen were recognized for having a Lost Workday Incidence Rate at or below the national average for highway construction.

National Work Zone Awareness Week
The 2018 National Work Zone Awareness Week took place the week of April 9-13, with the theme of "Work Zone Safety: Everybody's Responsibility".
CAWP participated in this national initiative to highlight the dangers posed to construction workers caused by speeding and distracted driving.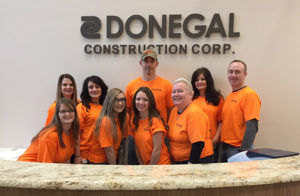 This year, participating companies were asked to support and promote legislation for the placement of automated speed enforcement cameras in construction work zones. Wednesday, April 11, 2018 was designated as Wear Orange Day to show support for safety in work zones.
Thank you to the following member companies for their participation:
Donegal Construction Corporation
Fenix Group, Inc.
Francis J. Palo, Inc.
Plum Contracting, Inc.
Strongstown B&K Enterprises, Inc.
Save
Safety Stand Down
The CAWP Safety Stand Down event at the MSA Safety Training Center in Cranberry Township, Butler County, PA was on Monday, May 7.  Attendees toured the MSA's comprehensive training center and attended sessions on the basics of fall protection and fall harness inspection.
Save
Save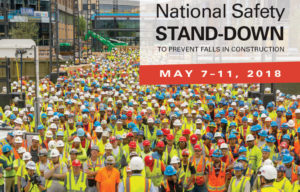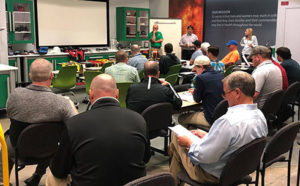 CAWP, OSHA Promoting Focus Four Hazard Campaign
As part of CAWP's Alliance with OSHA, we promote an annual "Focus Four Hazard" campaign to raise awareness on focus four hazards, which account for a majority of injuries and fatalities in the construction industry.
A series of Focus Four ToolBox Talks is available on CAWP's website for use at any time during the year, so that the topic corresponds to the type of work being performed on your jobsites.
Save
Save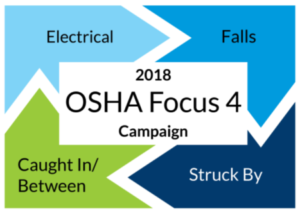 CAWP, PennDOT Highlight Work Zone Safety, Honor Fallen Workers
On Tuesday, July 10, PennDOT, CAWP and the Pennsylvania State Police held a media event to discuss the importance of work zone safety, as they welcomed the traveling PennDOT Workers' Memorial to the region.
The memorial was displayed on PennDOT's lawn in Bridgeville, honoring employees that have passed away in the line of duty since 1970. PennDOT employees paid respect to the victims during the program. The memorial was open to the public.
Save
Save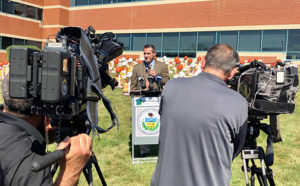 CAWP Launched Leadership Program for Foremen, Superintendents
On Monday, March 12, 2018, nearly 120 attendees participated in The Five-Minute Foreman, conducted by Mark Breslin.  The program is designed to make an immediate impact on a contractor's field operation.
Attendees of this program walked away knowing exactly what to do and say to get better results from their crews, and gained insight to understand, and accept, the role of manager and professional in representing their company and industry.
Key lesson plans and action steps for improved performance include: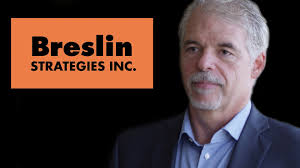 Effective Communication for Loyalty and Results
How to Motivate with Positive Reinforcement
Improving Safety Practices and Employee Mindset
How to improve Quality and Reduce Rework
Goal Setting for Higher Production
Promoting Positive Change
How to Maximize Teamwork and Accountability and much more
This program included a take home Action Plan for each participant with bi-weekly training videos sent to their emails.

List of Training Videos Being Emailed to Attendees Bi-Weekly
Professional Leader Image
Advanced Strategies in Delegation
Influence vs. Authority
Setting High Expectations
Identifying Qualities of Team Performance
How to Run a Great Safety Meeting
Firing Up Your Crew
Apprentice Success
Safety with the New Guy
Ask Don't Tell
Coaching the Apprentice
Having the Tough Conversation
Setting Clear Expectations
Resolving Conflicts for Better Teamwork
Locking in Employee Comprehension
Cost of Rework
Building Confidence
Don't Play Favorites
How to Apologize When You're Wrong
Effectively Disciplining an Employee
Production Goals that Work
Don't Compromise on Attitudes and Behaviors
Listening for Results
Positive Reinforcement
Mentoring Your Next Generation Talent
Elevated Leadership
Next Phase of this Training Program

The next phase of this training program is Alpha Dog: Leading Managing and Motivating in the Construction Industry.  Conducted by Mark Breslin, Alpha Dog is designed to provide concrete lessons for construction professionals who want to improve team and individual performance. The training program will make an immediate impact with those involved in field operations and includes specific recommendations on how to build a new leadership culture in a company of any size. Attendees will walk away with a useful action plan on how to tackle challenges head-on and leverage them into higher team and individual performance. The Alpha Leadership workshop is powerful in its relevance for construction professionals to adopt new leadership methods and behaviors.
Wednesday, March 6, 2019
8 AM – Noon
Pittsburgh Marriott North
100 Cranberry Woods Drive, Cranberry Township, PA 16066
There is no cost for this workshop.  Registration for this phase will be coming soon!
AGC Visits CAWP to Provide Training on Fall Protection
CAWP/H2AP was selected again to host AGC Fall Protection training in Pittsburgh.  On April 12, 2018, representatives from the heavy / highway industry received eight hours of free training on fall protection, supported by a Susan Harwood Federal Grant.
Thank you to the following Associated General Contractors of America (AGC) representatives for instructing and attending this training:
Nazia Shah
Associate Director of Safety & Health Services, AGC
Kevin Cannon
Senior Director of Safety & Health Services, AGC
Robert W. Emmerich, P.E., CHST, CET
President, SAFE-CON, LLC
James T. Goss, CHST
Sr. Safety Consultant, HCSS
Crane Operator Qualification Course
On September 18, Constructors Association of Western Pennsylvania, Master Builders' Association, Willis Towers Watson, and Zurich sponsored a Crane Operator Qualification Course. Nearly 90 attendees learned how to create a protocol for crane operator qualification within OSHA's proposed regulations.
Thank you to instructor Bill Davis, ALCM, CPCU, CSP, Senior Risk Engineer, Zurich Services Corporation.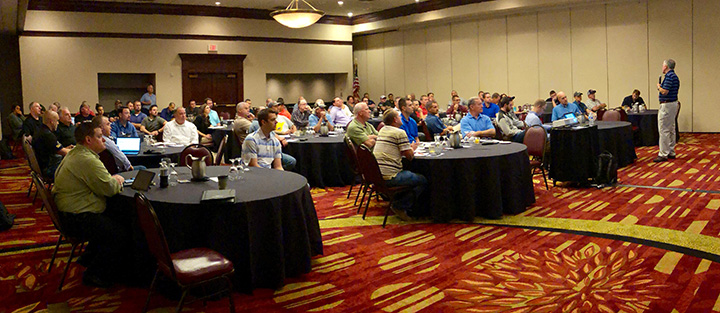 Annual Membership Reception & Monte Carlo
The CAWP / H2AP Annual Membership Reception and Monte Carlo was held on Friday, January 12, 2018 with nearly 750 people registered to attend.
The extended Monte Carlo event, reception style food and the same exciting prize drawings as in years past were a great diversion from the dire weather forecast. Attendees were able to enjoy more time networking with their fellow construction industry professionals, while also enjoying the game tables, food and drinks throughout the evening.  Funds raised at this event benefited the Greater Pittsburgh Community Food Bank.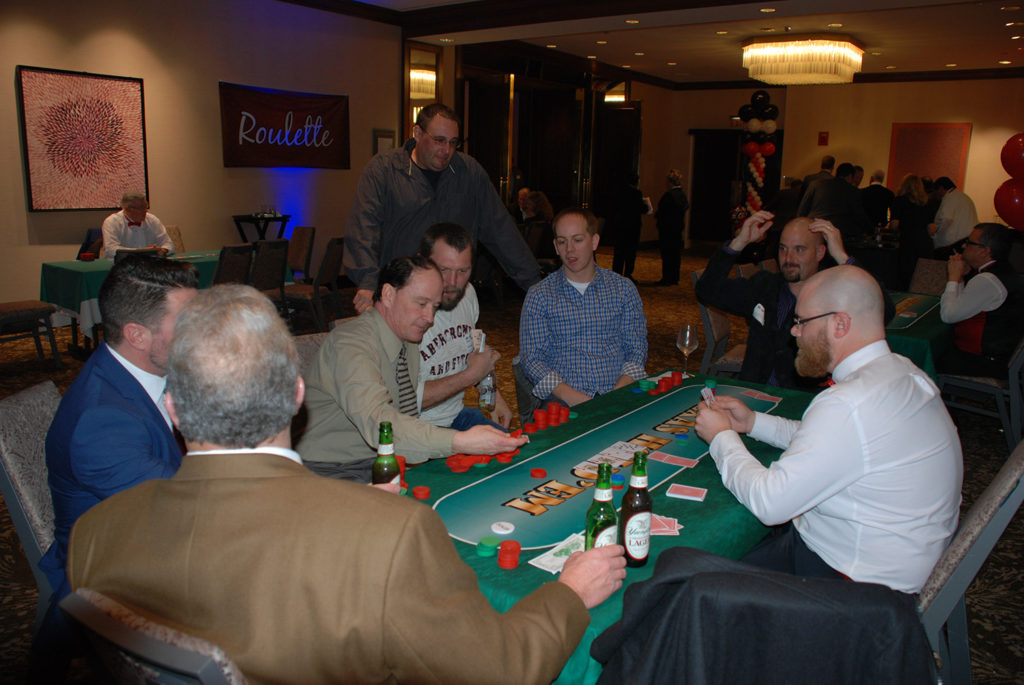 CAWP Annual Meeting
The 2018 CAWP Annual Meeting was held February 7 – 11, 2018 at the Hyatt Regency Scottsdale Resort & Spa at Gainey Ranch in Scottsdale, AZ.  Nearly 200 attendees enjoyed four days of networking, educational sessions, social events and more!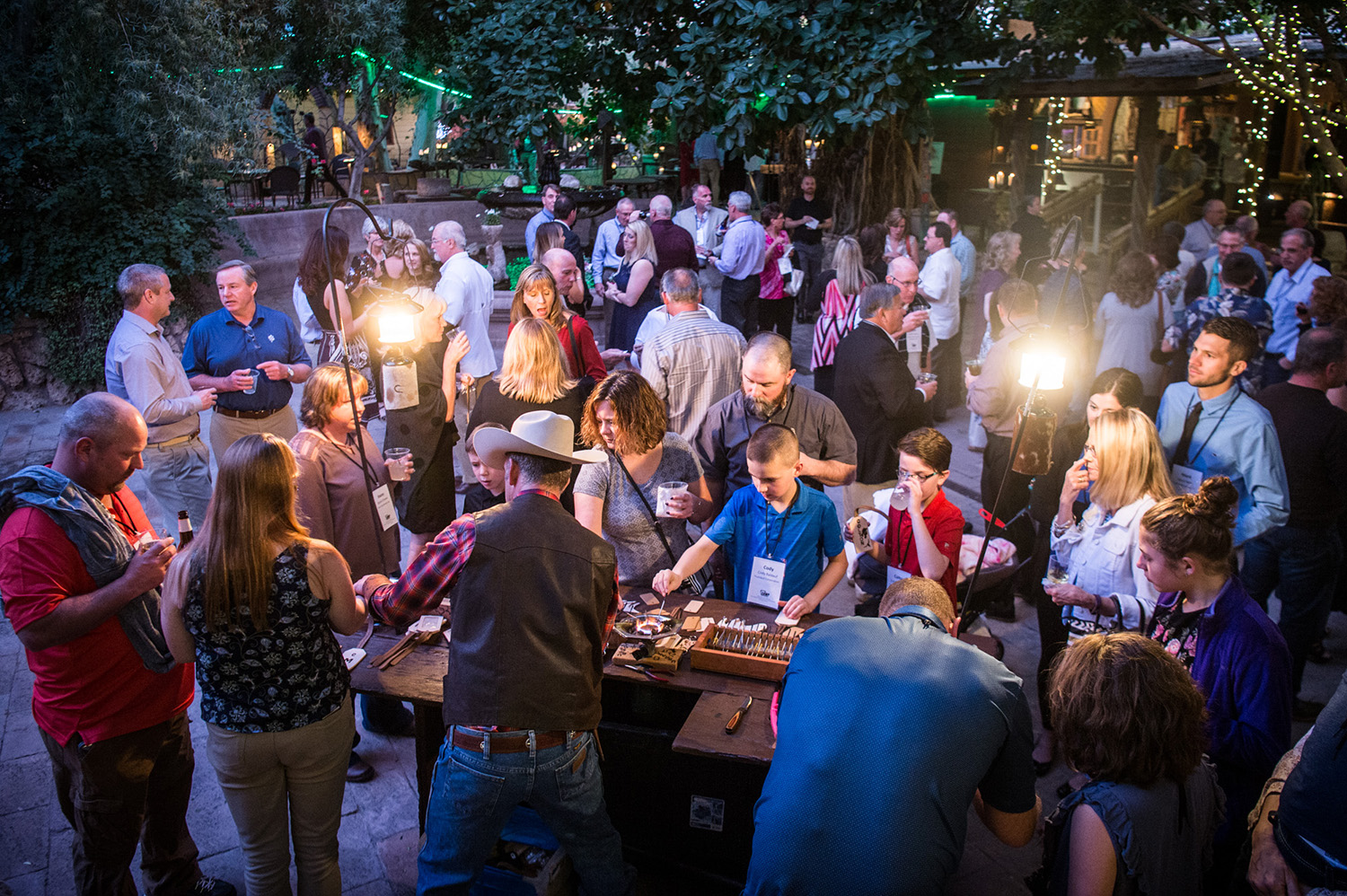 Find out what the speakers discussed, the fun excursions you missed, and what happened at the group dinner held inside a gorgeous garden oasis.
Cigars & Wine Night with CAWP
On Friday, October 19, nearly 75 CAWP members attended the Cigars & Wine night at Cioppino in the Strip. Attendees enjoyed delicious food and wine pairings, a wine tasting flight and fantastic cigars. There were several people who walked away with exciting prizes, including Penguins tickets, a Basket of Cheer and a $500 cash prize! All proceeds for the event benefited the CAWP PAC.
Save
Save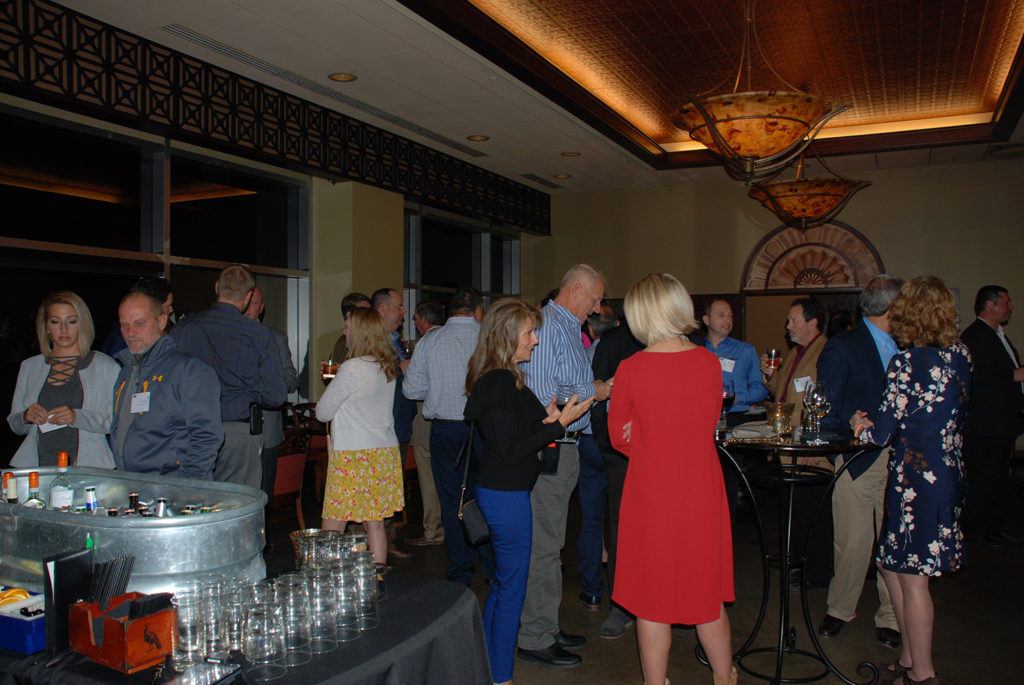 CAWP Construction Market Symposium
CAWP hosted the annual Construction Market Symposium on March 5, 2018. This event is held every winter and provides awarding agency representatives a platform to discuss projects that will be available for bid during the upcoming year with CAWP members. At the 2018 symposium, CAWP welcomed representatives from PennDOT Districts 1, 9, 11, and 12, the Pennsylvania Turnpike, Allegheny County Department of Public Works, and ALCOSAN to present their letting schedules.  PennDOT Districts 2 and 10, and the Port Authority of Allegheny County were unable to attend but submitted their project overviews to be distributed among those in attendance.
CAWP Annual Golf Outing
The annual CAWP Golf Outing was held on Monday, August 27 at Fox Chapel Golf Club and Pittsburgh Field Club. A combined field of 220 golfers enjoyed a day on the premier golf courses with some of the hottest weather of the summer.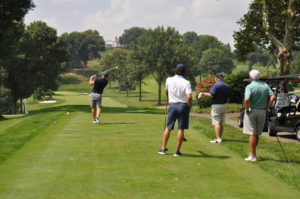 Immediately following the round of golf, all attendees gathered at Fox Chapel Golf Club for an extended cocktail reception with heavy hors d'oeuvres and bar service. While enjoying the sliders and French fry bar, attendees were able to network and mingle with their fellow construction industry professionals throughout the atrium, ballroom and terrace.
During the reception the winners of the golf rounds were announced and raffle prizes were awarded to some lucky attendees.
Save
Save
See the CAWP Golf Outing attendees in action with our
NEW VIDEO EVENT RECAP!